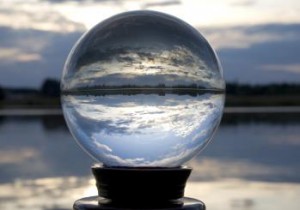 What does a new year mean to you?  A fresh start?  New opportunities?  A time to reflect on the past and set goals for the future?
With My Grimm Reality, it is all of the above.
So here we go.  The Captain has turned on the Fasten Seat Belt sign.  If you haven't already done so, please stow your carry-on luggage underneath the seat in front of you or in an overhead bin.  Please take your seat, fasten your seat belt and also make sure your seat back and folding trays are in their full upright positions.
Oh, and you might want to hang on.
While it would be very easy to give you another list of UnResolutions that I will undoubtedly be 100% successful in NOT doing, I have decided to look into my crystal ball and see what my future holds.  Will it show full of fame and fortune?  Parties and promotions?  Or will it show the reflection of a grizzled face of a man who looks much older than his 40 years?
Let's find out.
January 1 : Grimm starts his new diet.  This is quickly abolished by the fact that that he has an unfinished 2-liter of Pepsi and 1/2 bag of Doritos that need to be eaten.  You just cannot expect to start a diet with such temptation in the house.
January 2 : Grimm starts his new diet – again.  And again, it is swiftly revoked due to his birthday being just one week away.  Considering Grimm is always leaning toward being polite, it would be rude of him not to have all of the delicacies that were prepared for that special day.
January 9 : Grimm starts his new diet.  Now he can truly start fresh – the birthday cake has been eaten, the high-calorie soda has been vanquished and no more temptation can be located – or stashed away to a secret location unbeknownst to him.
January 11 : Grimm is going through severe snack withdrawal as he has searched the house in desperation looking for that last morsel of goodness - on the floor, under the sofa cushions – EVERYWHERE.  But to no avail.  This is shocking to Grimm because he has three girls who are not the most cleanliest of snackers.  He hates dieting and it's only been three days.
February 14 : Valentine's Day.  Grimm gives his lovely wife and wonderful kids each a small box of chocolates which they quickly devour in front of him.  They give him a 12-pack of rice cakes and tofu bars.  Grimm is not amused.
February 20 : While playing Just Dance 4 with Bug, Grimm pulls both hamstrings and strains his Maximus Gluteus.  This will cause him to shuffle around like an elderly person for the next two weeks, to much delight from his family and coworkers.
March 15 : Grimm celebrates being married to the most wonderful woman in the world for nine years by taking her to a semi-nearby casino under the strict condition that she cannot go into labor during the trip.  This condition will be tested when she wins $5,000 on a Sex And The City slot machine and is shown break dancing in the aisle.
March 22 : The Boy is born.  While his daughters quickly attempt to adorn him in unicorn onesies and rainbow pajamas, Grimm counters this by throwing NERF footballs at him and by teaching him the proper way to throw a fastball.  Jackson screams in encouragement (at least I think it is encouragement) then goes back to eating.
April 19 : The birthday party for his sweet little Bear is today.  The wife and kids celebrate with pizza, chocolate cake and ice cream.  Grimm parties with a bottle of water and a stick of sugarless gum.  He then decides to make Bug and Bear run extra laps at their next softball practice.
May 12 : As the pitcher for Bug's coach pitch softball team, Grimm gets drilled five times in one game for what he is told is a new county record.  Although tempted, Grimm somehow resists the urge to retaliate by throwing pitches at them.
May 20 : The Boy turns two months today.  To date he has declined an offer to join the "Sisters Club" as well as declaring himself the master of anal toxicity.  During this time, Grimm has changed…(sixty divided by… carry the one…) exactly two diapers.
June 3 : While working out on the elliptical, Grimm overdoes things a tad bit while trying to finish in a flurry.  The result is a crater in the ceiling plaster and a new lump on the top of Grimm's head.   Both are called improvements.
June 22 : Today Grimm celebrates the birthdays of my wonderful wife and my firstborn.  He surprises them with breakfast – pancakes, extra crispy eggs, burnt toast and black, shriveled pieces of meat that at one time resembled bacon.  After Bug chips a tooth, Grimm is declared banned from the kitchen.
July 4 : To celebrate Independence Day, Grimm buys fireworks at a small Army surplus store.  Fire departments from three counties are called to his home when his garage goes aflame.  Grimm blames a jealous neighbor for snitching on him and a faulty M-1000 for his garage turning to ash.
August 10 :  Grimm competes in his first 5K race in over two years and finishes an outstanding second in his age group.  Witnesses are paid not to mention of there only being two competing in his age group and that the other finished a mere 17 minutes in front of him.
September 8 : The Boy has discovered the importance of NASCAR racing and the National Football League.  He is now a permanent fixture on the lap of Grimm every Sunday.  Coincidentally, The Boy has developed the ability to time his bowel movements to whenever America's Next Top Model or Dance Mom comes on the television.  Grimm loves this kid.
September 22 : Grimm grants the birthday wish of his now three-year old Bee by allowing himself to be dressed as a princess – complete with a makeover given by her older sisters.  All known visual footage of this event will be destroyed a few hours later.
October 31 : Today Grimm fulfills his lifelong dream of being Herman Munster for Halloween.  His wife is genuinely impressed by how little makeup is needed to make him look like a Frankenstein monster.  Not amused, Grimm deletes her game of Where's My Water off of her IPad.
November 28 : Grimm splurges on the fantastic Thanksgiving dinner prepared by his family – tender turkey, homemade noodles and stuffing, glorious mashed potatoes and chocolate pie are happily piled into his waiting stomach.  For today, Grimm does not care about the 25 pounds he put on in one day.
November 29 : Grimm is caring about the 25 pounds he put on yesterday.
December 1 : Grimm and his wife shall begin the strenuous task of Christmas shopping.  To get everything on the lists of our children will entail taking out three loans and maxing out two credit cards.  Grimm considers re-wrapping presents from last year that they did not play with.
December 25 : In an eerie case of history repeating itself, Grimm and his wife will again be up until the wee hours Christmas morning.  Where last year it was putting together a kitchen set for the girls, this year it will building a basketball gymnasium for The Boy.
From this angle it doesn't appear that 2013 will be too bad a year after all.  A little painful maybe, but as they say – no pain, no gain right?